Welcome to Fine Art Expressions
A work of art should not be hidden from view. Rather, it should be showcased so that it may be a catalyst that brings about positive emotion as well as a feeling of relaxation or enjoyment. These are just a few of the motivating factors that feed into the creation of each expression.  Whether large or small, accent your space with framed selections from my Art Studio Collection. Additional options available, including pre-matted giclée prints and related accessories. Thanks for stopping by and cheers! Kenneth L. Montgomery, Artist.
New Fine Art Expression
One of the joys of traveling is to be able to get a glimpse into the daily lives of other cultures. While vacationing in Ocho Rios, Jamaica, I came across this scene of a fisherman. With mild temperatures and no other boats around, I can imagine how it must have felt to him to be able to put out his line and relax while drifting slowly and steadily down the river!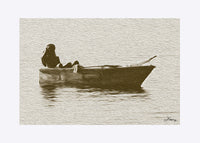 Pre-Matted Giclée Print Collections